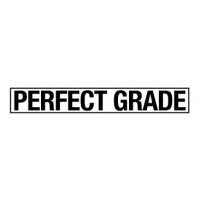 Bandai released 1:60 scale versions of the main mecha of major TV series. These are Non-Grade or TV-Grade models, and are the main line of the 1:60 scale kits. Early 1:60 kits, like other scales, were simply larger versions of the smaller scales.
In the early to mid 1990s, three High Grade EX models of V2 Gundam, Shining Gundam and God Gundam were released, featuring more details and gimmicks than their smaller counterparts. Bandai also created a much more detailed series of figures called Perfect Grade (PG). These kits come in standard 1:60 scale but are superbly detailed in terms of color and its inner frame, as well as normally possessing more points of articulation, such as hands that articulate at the knuckles.
Perfect Grade kits were mainly used for developing new plastic model technologies, a function currently taken over by the Master Grade series, and typically need a few years to develop each kit.
- Since the last Perfect Grade 5 years agoe, here is a completely new Perfect Grade 'Double O-Riz..
Showing 1 to 2 of 2 (1 Pages)